<![if !vml]>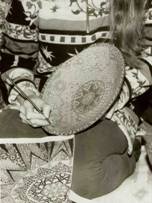 <![endif]>  <![if !vml]>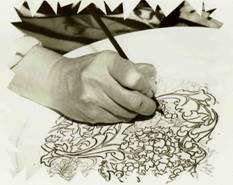 <![endif]> <![if !vml]>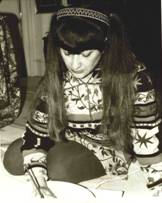 <![endif]>                     
Khairat Al-Saleh is a Syrian British artist working and living between Damascus and London. She expresses her passion for art, especially Arab Islamic art through painting, printmaking, glass and ceramics. She studied English literature and drama at the University of Wales where she was awarded two postgraduate degrees, the last of whish Magister in Artibus, in 1982. The subject of her thesis was The Theatre of W B Yeats: Theory and Practice. Then she worked in publishing and as an interpreter, writing poetry and researching. She wrote a book entitled Fabled Cities, Princes and Jinn from Arab myths and legends, published in London in 1985. She also worked as the consultant editor for Linguaphone, supervising a programme for teaching Arabic as a second language to English speaking students. At this stage she began to devote much of her time to painting.  Her training as a potter and a printmaker took place at Richmond Adult college where she learned some of the techniques which she was able to develop and expand later, making them her own.
Khairat's art owes much to her exhaustive research at the British library, the British museum and the V&A, which house a rich collection of Arab and Islamic manuscripts and ceramics.  Her style is influenced by the art of the book – historically, the art of illustrated manuscripts with its roots in the Hellenistic, Byzantine, Syriac, Islamic and European manuscripts. Hence her great interest in calligraphy, especially the Arabic Kufic forms.  She partly regards herself as a revivalist feasting on the magnificent journey of the heritage of the Arab Islamic civilization as it travelled the world and became one of the great sources of European civilization.  Her paintings, mainly watercolours and gouache, which used to explore the techniques of gilding employed by ancient Islamic and European manuscripts, have evolved to reflect the variety of cultures and influences that inhabit her world; also the tremendous love for colour in all its resplendent attributes. The paintings, set against the dynamic control and attention to detail required by her ceramics, offer her the refreshing opportunity to explore the opposite side of discipline and juxtapose the polarities. Recently she has been exploring futuristic themes, architectural forms and cosmic panoramas.  
<![if !vml]>

<![endif]>Khairat started her career as a professional ceramist in 1991. In this medium,  Khairat fulfils the role she loves most, the role of the artist setting out on a journey towards times immemorial in order to gain intimations of times to come.   She believes that pots are the greatest space and time travellers.  They hold time still in perpetuity and being, like us, made from primordial mud; they have a kind of indestructible eloquence. Here too, her main inspiration is derived from the multi-coloured heritage of the Middle East spanning nearly 10,000 years during which the art of the potter played a central role which culminated in periods of superb intense flowering matched by leaps of achievement which introduced new techniques such as lustre, cobalt blue and tin glazing. As a thrower, a painter and a designer, Khairat fulfils the various roles of the potter.  She experiments with all types of clay and glazes and uses lustre as an integral part of the design.  She hopes that as a ceramist in particular she can bridge the artificial gap between art and craft, thereby enacting one of the great ideals of Islamic art.
As a printmaker, Khairat's work displays a great variety of colours and liberal use of embossing styles.  She utilizes Western techniques to their limits, revolutionising them as she fuses West and East with passionate intensity.  She inks the plates herself to emphasise the originality of each new print, liberating the printing process from rigidly imposed patterns and conventions.
As a glassmaker, her most recent branching into other forms and media, she is exploring the glory of light as reflected and filtered through glass. In the glass world one discovers a fourth dimension: living light. Instead of painting with brushes, the artist can paint with light as it explodes through multi-coloured glass.
I dream, therefore my works of art dream with me, not excluding pain, but courting the light despite the tragedies that overwhelm our world.  I believe in art, in its limitless capacity to ennoble the spirit and the intellect and to refine the senses
Khairat Al-Saleh
Public Collections
The National Art Gallery, Amman, Jordan
GATT Gallery, U.N. ,Geneva
World Museum, Rotterdam
Darat  al Funun, Amman, Jordan
Westminster Bank, London
Publications
Fabled Cities, Princes and Jinn from Arab myths and Legends, published by Peter Lowe in London
Translation into Arabic of some of the verse plays of W.B. Yeats.
Several articles and lectures on Arab Art.
Co-another and  editor consultant for a Linguaphone programme to teach Arabic to English speaking students.
Broadcastings
Poems by the artist broadcasted from the BBC Arabic Service
Lectures
Several lectures on art and the journey of the artist through time and between cultures
TV and the press
Several reviews in Arabic, Dutch and English published on the art of the artist in the British and Arab newspapers and magazines.
Interview by MBC, 1995.
Interview by Al-Jazeera TV in London, 2000.